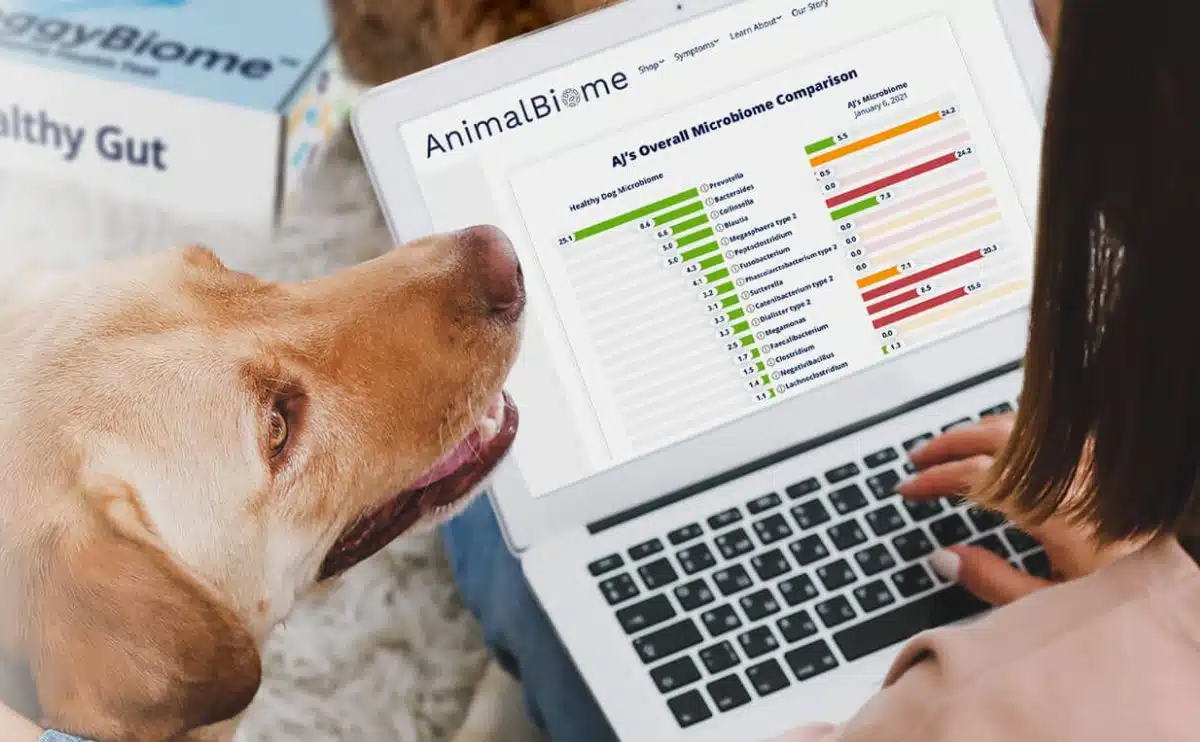 AnimalBiome is a leading company that offers the latest trend in at-home dog health testing — analyzing your pup's gut microbiome. If you're considering testing your furry friend, we explain why testing your dog's gut can help her overall health, how AnimalBiome's DoggyBiome at-home test kit works, and why we think this test is worth it if your dog has certain chronic health problems.
AnimalBiome DoggyBiome Test Review
Summary
AnimalBiome has an excellent reputation in the field of companion animal health research, and we think their DoggyBiome Gut Microbiome Health Test is the best gut health test kit on the market.
We base our reviews of at-home dog testing kits on company reputation, scientific integrity, quality of results, pricing, customer support, user reviews, and more.
Pros
Leading company in dog and cat gut microbiome research
Test detects gut imbalances and identifies problematic bacteria
Results include personalized recommendations for diet, supplement, or lifestyle changes for your dog
Includes a 15-minute consultation by phone with AnimalBiome experts if you have questions about your results
Recommended by many clinical veterinarians
Get results in 2-3 weeks
Also offers probiotic supplements and oral health testing for dogs and cats
Excellent user reviews for results and customer support
Cons
Tests and supplements are pricey
No discounts on retesting
What Is The Gut Microbiome?
Before we dive into our AnimalBiome reviews, it's important to understand some basics about how gut health affects overall well-being. For dogs, people, and other animals, the term gut microbiome refers to the massive community of tiny microbes (bacteria, fungi, etc.) that live in our intestinal tract. Ideally, these millions of organisms work together in harmony to digest our food and absorb nutrients properly, protect our bodies against diseases, maintain healthy skin, and much more.
In a healthy gut, good bacteria keep bad bacteria in check, resulting in a well-balanced, harmonious community. Unfortunately, age, diet, illness, antibiotic use, and other environmental factors can sometimes cause the bad bacteria to seize control and disrupt the microbiome's normal functions. And this imbalance can lead to several health problems.
Signs Of An Unhealthy Gut
An imbalance of healthy gut bacteria can cause many chronic problems that affect your dog's health. Some symptoms of an unhealthy gut include:
Diarrhea and constipation
Vomiting, gas, and bloating
Itchy skin and dull coat
Low energy
Anxiety or other behavioral changes
Poor oral health and bad breath
Weak immune system
Many of these symptoms can be signs of other health problems, so it's important to consult your vet if your pup has any chronic health issues. A gut microbiome test isn't meant to replace getting a diagnosis and treatment from your vet.
What Can A Dog Gut Health Test Reveal?
At its most basic, a dog microbiome test analyzes a small stool sample to determine the makeup of good and bad bacteria in a canine's gut microbiome. Results tell you which kinds of bacteria are present in your pet's gut and the proportions of each type. And some tests identify other microbes present in the gut (e.g., E-coli).
While several different companies offer pet gut health tests, it's important to note that scientific research still has a long way to go in understanding how the complicated gut microbiome works in dogs and cats in order to provide proven "remedies" for poor gut health. However, AnimalBiome is a scientific leader in this field, making their gut health test your best option in our opinion.
Key Features Of AnimalBiome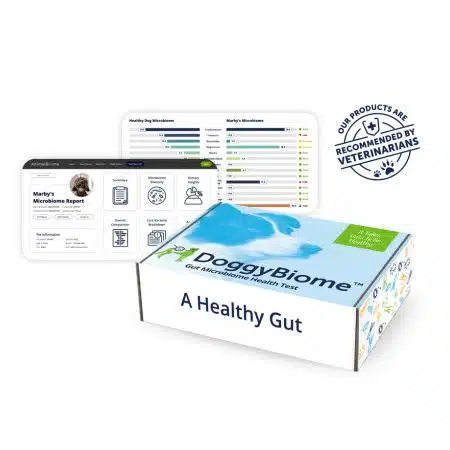 Uses DNA sequencing to identify the types and proportions of all the bacteria found in your dog's stool sample and compares it to their database of dogs with healthy guts
One of the largest databases of gut health information in the world for companion animals
Test also identifies any missing beneficial bacteria
Results include personalized recommendations, including diet, supplement, or lifestyle changes, to improve your dog's gut health
Retest to measure how your dog responds to dietary changes or treatments
Backed by 20 years of research on animal-microbial interactions
Offers supplements to help improve and maintain GI health
Also offers a similar KittyBiome test
Partners with Embark, a leading dog and cat DNA testing company, the Morris Animal Foundation, the University of Illinois' College of Veterinary Medicine, and many other organizations
How Does AnimalBiome's DoggyBiome Test Work?
AnimalBiome makes the testing process simple on your end. All you have to do is:
Collect two pea-sized stool samples with the kit's included tools
Activate your kit and fill out your dog's profile on their online Pet Portal
Send in your sample with the prepaid and pre-addressed mailer
AnimalBiome's laboratory analyzes your pup's stool samples
In 2-3 weeks (after the lab receives the sample), you'll get an email notification that your results are ready and available on your Pet Portal account
What Else Does AnimalBiome Offer Dogs?
While dog and cat gut health testing is AnimalBiome's flagship service, the company also offers oral health testing and a variety of probiotic supplements.
Oral Health Testing
Are you worried that your pup's dental health isn't what it should be? AnimalBiome's DoggyBiome Oral Microbiome Health Test works in a similar way to their gut health test by analyzing the microbiome in your dog's mouth. Poor oral health is very common in canines and can cause bad breath, gum disease, tooth loss, and other health issues. They also offer an Oral Cleanse Powder to help reduce bad bacteria in your pup's mouth.
Probiotics & Other Supplements
AnimalBiome carries an assortment of supplements to not only restore your dog's poor gut health but also to maintain a healthy GI system. They also offer all-natural supplements for immune health, hip and joint support, and skin and coat health.
Price (With Coupon Code)
DoggyBiome Gut Microbiome Health Test: $99
DoggyBiome Oral Microbiome Health Test Kit: $99
Supplements: starting at $35
Free shipping
What's Our Final Verdict?
While understanding the intricacies of your dog's gut microbiome can be difficult to digest as a pup parent, AnimalBiome's results are easy to decipher. We love that you get actionable recommendations to get your furry friend's gut health back on track, plus a consultation with their gut microbiome experts. Based on the customer reviews we've seen, this test has helped many dogs become healthier and happier.
Have You Considered A Dog Allergy Test?
Such symptoms as digestive problems or itchy skin could also be a sign that your pup has an intolerance to food items or environmental allergies. Doing an at-home dog allergy test may help identify specific allergens that are causing your furry friend's symptoms. You simply send a saliva or hair sample to the company's lab and get results within a few weeks. You can then share these results with your vet to help further narrow down possible causes.
Tagged With: