Labrador Retrievers are incredibly intelligent and are one of the most popular dog breeds for family pets. The Labrador Retriever has long taken one of the top spots on the most popular dog breeds list. As hard-working, larger-sized dogs, they must have top-quality nutrition. Labs' dietary and nutritional needs will change as they move through different life stages, like every other dog breed. We have done extensive research and are happy to share our top choices of the best food for Labs, including puppies, adults, and specific dietary concerns for this highly lovable breed.
At A Glance: Best Dog Food For Labrador Retrievers
Nutritional Needs For Labrador Retrievers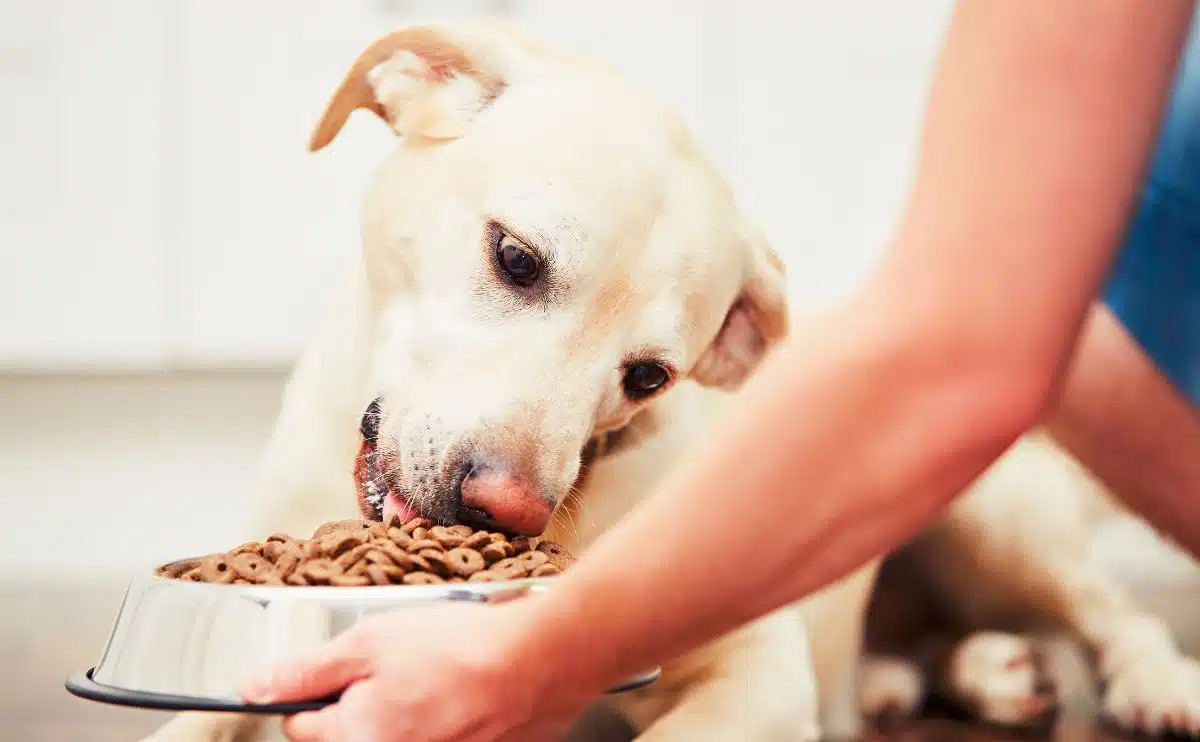 Labrador Retrievers reach between 55 and 80 pounds. These dogs are quite muscular, very active, and have a diet rich with high-quality animal protein, fat, and complex carbohydrates to maintain muscle mass and provide energy. Labrador puppies can develop painful hip dysplasia and osteochondrosis.
Labradors need a nutrient-rich diet loaded with vitamins, minerals, and antioxidants to keep the immune system strong. High-quality food also helps lower the risks and symptoms of common health conditions with this breed, including elbow and hip dysplasia, allergies, atopic dermatitis, cancer, heart problems, and arthritis. These dogs must have diets that address the breed's proneness to obesity, increased risk for food allergies, and high prevalence of hip dysplasia.
High Obesity Risk
Labradors are famous for their love of eating and have even sometimes been called gluttonous. These dogs will literally eat anything, even rocks. If left to their own devices, they will eat anything they can, leading to a high rate of obesity in the breed.
According to the Association for Pet Obesity Prevention, around 60% of all Labradors are obese or overweight.
Gastric Torsion – Bloat
Labradors, like other deep-chested breeds, are very susceptible to bloat. This is more common among dogs who eat just one large meal daily. When dogs eat or drink a large amount very quickly, the stomach becomes too filled and can push on other organs. It may lead to tears in the stomach, respiratory distress, and in dangerous cases, cause the stomach to twist, which can be fatal.
Food Allergies & Sensitivities
Food allergies and sensitivities are quite common with the Labrador Retriever. This breed has a genetic predisposition to developing these conditions. Sometimes, they will develop allergies to common ingredients, including proteins like poultry or beef and dairy ingredients like eggs and cheese. Some dogs will develop an allergy or sensitivity to wheat, corn, soy, or other complex carbohydrates. Dyes, preservatives, and artificial and some natural flavorings may also be a problem, as are some supplements, including vitamins and minerals. One of the main ways to treat allergies and food sensitivities is through Labrador's diet.
Hip & Elbow Dysplasia
Hip and elbow dysplasia are diseases that Labradors are unfortunately predisposed to. This is in part due to genetics as well as due to their large size and weight distribution. Hip dysplasia occurs when there is a malformation in the head of the hip or elbow joint. This causes pieces of the ball and socket joint to rub painfully together, which is quite painful. Eventually, this can lead to long-term chronic pain, lameness, or osteoarthritis. Diets high in iron, which comes from meat, are essential, as many pets develop anemia in response to hip or elbow dysplasia. Dogs who are fed too much calcium when they are puppies or overfed may also develop dysplasia.
Beyond Basic Ingredients
All dog chow should include proteins, carbs, healthy fats, fiber, and essential vitamins and minerals. In addition to those ingredients, many of the most nutritious premium dog foods are fortified with additional elements that have significant health benefits for your furry friend. Here are a few things you will want to look for and how they support your pup's health. We have listed these premium ingredients in our reviews.
Fruits & vegetables: excellent natural sources of fiber, vitamins, minerals, and antioxidants to support immune health.
Fish oil and/or flaxseed (omega-3 and 6 fatty acids): brain and eye development, skin and coat health, joint and immune support
Glucosamine & chondroitin sulfate (often from chicken meal*): maintain healthy joints.
Prebiotics & probiotics: support digestion and a healthy level of good gut bacteria
Taurine: supports cardiovascular, eye, and brain health, immune system function, and benefits many other body functions
L-carnitine: an amino acid derivative that helps the metabolism of fats (particularly beneficial for older, less active dogs)
Organ meats: excellent source of premium quality proteins and fat as well as vitamins A, B, D, and E, copper, iron, phosphorus, selenium, and zinc
Chia seeds: rich in plant protein, fiber, antioxidants, omega fatty acids, calcium, potassium, magnesium, manganese, zinc, phosphorus
*A note about meat meal: Quality pet food brands often use meat meal in their recipes, which can be a very healthy source of protein for your pup (as long as the "meat" is named, e.g., chicken meal, lamb meal, etc.). A meal can be made from the meat, tissue, organ meat, bone, stomach, and intestines of the named animal. But meat meal doesn't include by-products like hair, feathers, beaks, heads, blood, hooves, hide trimmings, etc.
Best Dog Food for Labrador Retrievers
Labradors, like all canines, do their best on a diet made with high-quality ingredients. Fresh options for dogs are becoming increasingly popular for health-conscious owners. For Labradors of all ages, fresh meals are one of the most nutritious choices owners can make. This is especially true for Labs, with their dietary sensitivities, proneness to obesity, and common dietary allergies.
The Farmer's Dog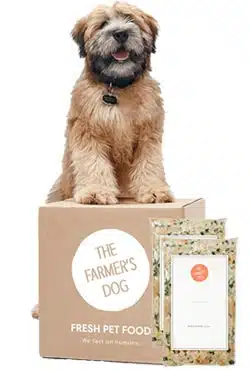 The Farmer's Dog is one of our top choices in this market. The Farmer's Dog makes fresh, human-grade meals using only whole-food animal proteins, vegetables, and fruits, all fortified with an ideal blend of vitamins and minerals for your pup's needs. Meals are suitable for all life stages and breeds.
The Farmer's Dog is a subscription service that pre-portions and personalizes all recipes. Owners complete a brief survey and provide details on their pup's age, breed, health concerns, body shape, current weight, and more. Once a subscription is set up, meals are shipped right to your door. They offer grain-free beef, chicken, pork, and turkey recipes developed by board-certified American College of Veterinary Nutrition (ACVN) nutritionists and flash-frozen to preserve nutrients, flavor, and freshness. For their fresh turkey recipe:
First 5 ingredients: USDA turkey, chickpeas, carrots, broccoli, and spinach
Formula highlights: human-grade & whole ingredients, fish oil, and taurine
Guaranteed analysis: crude protein 38% (min); crude fat 26% (min); crude fiber 2% (max)
Calories: not available
Price
Starts at $2/day for small dogs but varies based on each dog's weight, age, and other factors.
Our readers have access to 50% off your first box. No code is needed; just use this link to apply the discount! You can also visit our dedicated The Farmer's Dog coupons page.
Full Review Of The Farmer's Dog
Best Puppy Food For Labs
Labs are a larger breed and grow quite quickly during puppyhood. They will grow quickly until about eight months old, which means they need nutrition to support this hefty growth level. This breed is already prone to be sensitive to some ingredients. Large-breed puppies cannot eat food with too much calcium, fat, vitamin D, and phosphorus. Improper nutrition leads to poor skeletal development and a higher risk of joint dysfunction like hip dysplasia and arthritis.
High-quality animal meat is best for a Labrador. Stay away from fillers like wheat gluten. According to AAFCO guidelines, puppy food should include a minimum of 22% protein and a minimum of 8% fat for all breeds. Large dogs like the Lab need more protein than this if possible and fare best on large breed puppy formula. Fresh meals are also a good option, budget permitting. Be careful about too much calcium, leading to lifelong bone damage.
Open Farm Puppy Gently Cooked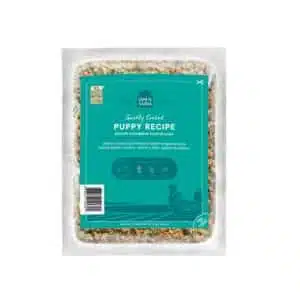 This gently cooked puppy formula has top nutrition and taste. Open Farm uses a variety of humanely raised meats. This recipe includes chicken, pork, and wild-caught salmon. The company shares where each ingredient is sourced from. This recipe contains non-GMO fruits and vegetables like carrots, apples, kale, butternut squash, bone broth, pumpkin, and flaxseed.
The mix of protein and healthy fats and the ingredients' quality stand out here. Additionally, Open Farm makes high-quality puppy kibble that benefits Labs. These limited and fresh ingredients are an excellent choice for the ultra-sensitive and allergy-prone Labrador. Gently cooked is more expensive, but both are well worth the price. This fresh meal can be served as a topper or a complete meal. Gently cooked puppy food is shipped frozen.
First 5 ingredients: humanely raised chicken, wild-caught salmon, humanely raised pork, chicken liver, and carrots
Formula highlights: human-grade & whole-food ingredients, flaxseed, coconut oil, sunflower oil, niacin, Vitamin D, salmon oil, chia, seeds, folic acid, lysine, and more
Guaranteed analysis: crude protein 43.75% (min); crude fat 35.42% (min); crude fiber 3.33% (max)
Calories: not available
Price
8 lb. for $99.99 ($12.50 per lb.) 16lb for $159.99 ($10.00 per lb.)
Orijen Puppy Large
Orijen Puppy Large is a top choice for large-breed kibble. This is a premium kibble using whole animal proteins. 85% of this recipe comes from animal ingredients. Fresh and raw ingredients are used to give this one both flavor and top-quality nutrition. These include meat, organs, and bone. The first five ingredients are fresh or raw. This recipe follows an ancestral diet and works to provide biologically appropriate nutrition. Kibble features a freeze-dried coating for a pop of raw flavor that dogs adore.
It also includes whole herring, eggs, dehydrated chicken, dehydrated turkey, and more, meaning this recipe is packed with protein and fats, perfect for the highly energetic and fast-growing Lab. The recipe includes fruits and veggies like cranberries, pumpkin, squash, apples, and collard greens.
First 5 ingredients: chicken, turkey, flounder, whole mackerel, chicken liver, turkey giblets (liver, heart, gizzard).
Formula highlights: no gluten, potato, or tapioca, Includes taurine, thiamin, copper, Vitamin E, zinc, taurine, glucosamine, prebiotics, probiotics, and DHA & EPA from fish.
Guaranteed analysis: crude protein 38% (min); crude fat 16% (min); crude fiber 4% (max)
Calories: 449 kcal/cup
Price
Wellness Just For Puppy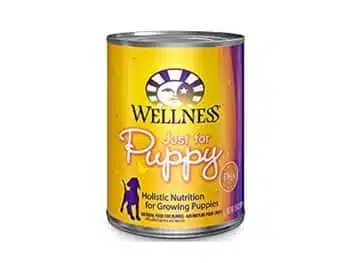 Wellness Puppy is a top-of-the-line canned food. It can be served as a topper on your pup's dry kibble or as a stand-alone meal offering variety to your dog's diet. This puppy pate's main ingredients include chicken, salmon, sweet potatoes, carrots, apples, pears, and more. It uses only natural ingredients and is made in North America.
This canned recipe is crafted to boost whole body health and supports the immune system, digestive health, healthy skin & coat, and optimal energy. This is a solid choice for a Lab pup, created by canine nutritionists. 78% moisture will keep your furry friend hydrated and satisfied with the meaty taste. Easy to digest and well-reviewed. Wellness also makes a dry puppy kibble that is perfect for the mighty Labrador.
First 5 ingredients: chicken broth, chicken, chicken liver, salmon, ground barley
Formula highlights: gluten, wheat, and soy-free, iron, zinc, chloride, B12, folic acid, and more
Guaranteed analysis: crude protein 9% (min); crude fat 6% (min); crude fiber 1% (max)
Calories: 434 kcal/can
Price
Best Senior Food For Labs
Labradors become seniors between 7 and a half to 10 years old. They will need to switch to senior dog formulas somewhere around this time. While adult food is good, their bodies use nutrition differently when dogs enter their senior years. Their metabolism slows down, and they use less energy. Additionally, aging dogs are less physically active, meaning chow that is too high in fat and calories can lead to weight gain and even obesity. This breed is already known for its sensitive stomach, and these issues can start to appear or worsen as they age. Looking for food that is easier to digest is advisable.
Older dogs often develop arthritis or osteoarthritis, as well as joint pain. This is especially common in Labradors, who often develop pain in their hips and knees. Skin and coat health is also a concern, as well as weakened immune systems and less ability to fight infection and heal. Senior dog foods are formulated specifically to address and prevent some of these common aging issues.
Ollie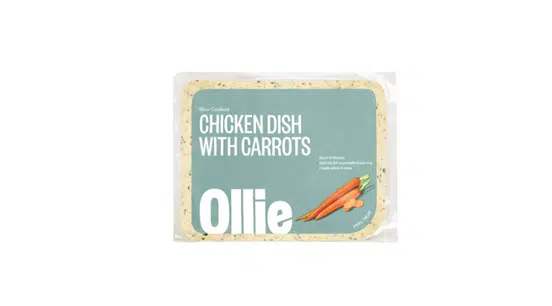 Many senior dogs will do better on a fresh diet. Ollie is a very good choice for any age, especially seniors known for dietary sensitivities like the Labrador Retriever. Ollie delivers human-grade dog food packed full of healthy proteins, vegetables, and superfoods customized to me a dog's specific nutritional needs. Ali does account for dietary allergies but not other health issues. However, meals are created with all-natural, fresh, human-grade ingredients and use no preservatives or fillers. These recipes are top-quality nutrition and are very easy to digest. Dental concerns may also be an issue for older dogs which is something to keep in mind.
Ollie works with specialized veterinarians to create tasty recipes. Meal plans are then created based on a pet's specific breed, age, activity level, allergies, and ideal weight. Owners can choose from 3 subscription options, and everything is made in the United States. All meals contain no soy, corn, or wheat. Additionally, Ollie donates 1% of their revenue to animal rescue organizations. Every recipe includes superfoods like cod liver oil and chia seeds. Protein choices include beef, chicken, turkey, lamb, and meats sourced from family-run farms in the U.S. and Australia. Below we break down the fresh chicken recipe.
First 5 ingredients: chicken, rice, carrots, chicken livers, peas
Formula highlights: salmon oil, taurine, zinc gluconate, vitamin E, B2, B6, D3, no corn, wheat, or soy
Guaranteed analysis: crude protein 8% (min); crude fat 3% (min); crude fiber 2% (max)
Calories: Depends on the order
Price
Open Farm Senior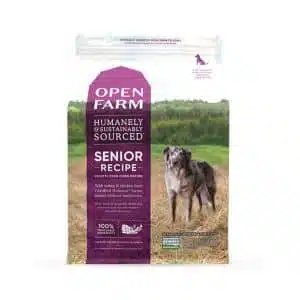 Open Farm Senior is an easy-to-digest recipe with fresh turkey as its primary protein source. This recipe is formulated specifically for senior dogs with sensitive stomachs. Kibble is grain free and developed to support healthy joints and mobility in a dog's later years. Prebiotic fibers help support healthy digestion. Recipes use no rendered poultry or meat meals and use 100% traceable ingredients.
This recipe has added glucosamine and chondroitin to promote healthy joints and is a good choice for senior dogs of all breeds and sizes. Perfect for picky eaters, and can be served as a topper or with bone broth mixed in. This grain-free recipe uses a balance of healthy fats and natural proteins.
First 5 ingredients: turkey, chicken, sweet potato, ocean whitefish meal, peas, chickpeas
Formula highlights: New Zealand Green Lipped Mussels, non-GMO sourced pumpkin and coconut oil, flaxseed, herring meal, rosemary extract, turmeric, grain-free
Guaranteed analysis: crude protein 31% (min); crude fat 12.5% (min); crude fiber 4.5% (max)
Calories: 436 kcal/cup
Price
Best Dry Dog Food For Labs
Dry food, or kibble, is a part of most dogs' diets. Dry kibble helps support dental health, and it's helpful to provide a complete and well-balanced diet. High-quality dry kibbles provide everything dogs need to have complete nutrition. These generally contain between 18 and 32% protein and between 8 and 22% fat. Dry dog kibbles generally contain more carbohydrates than wet or fresh meals. Dry kibble helps support high-energy using breeds.
Wellness Core Large Breed Adult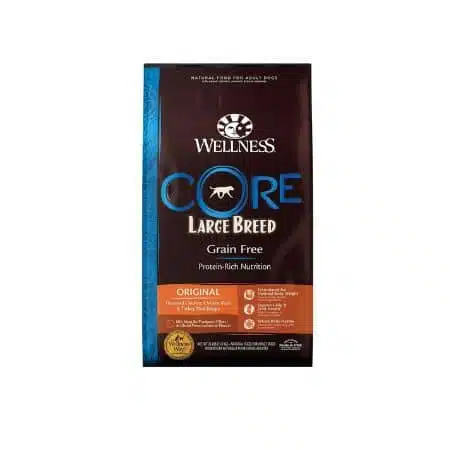 This tasty formula is made just for larger breeds. Wellness works to provide whole-body support. This recipe is grain-free and designed to optimize energy levels, support a strong immune system, and ensure skin and coat health. It uses no corn or wheat, is easy to digest, and avoids some common food allergens. This is a meat-focused recipe with no grains, but Wellness also makes a grain-inclusive line.
The Core formula design supports heart health, skin & coat, digestive health, and strong joints. All-natural formulas offer top-quality ingredients and no fillers or added flavors. This kibble is an excellent choice to maintain the health of your Lab.
First 5 ingredients: deboned chicken, chicken meal, ground brown rice, barley, and peas.
Formula Highlights: omega fatty acids (from salmon meal and flaxseed), glucosamine, chondroitin, taurine, probiotics
Guaranteed analysis: crude protein 26% (min); crude fat 12% (min); crude fiber 5% (max)
Calories: 340 kcal/cup
Price
Nulo Freestyle Adult Trim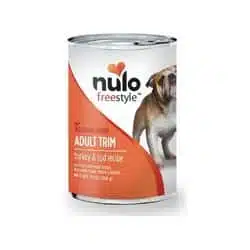 This is a grain-free, low-fat formula that does not use any chicken or egg proteins. The recipe is made from 74% animal-based ingredients. It includes pure probiotic strains to support digestion, calcium and phosphorus to maintain strong bones and joints, L-carotene to help metabolize fats, and high-quality fruits and vegetables to support immune system health. This grain-free recipe uses cod and lentils, providing high levels of protein and amino acids with more fiber and less fat.
Weight management support is something that every Labrador owner should be aware of. These dogs love to eat and often eat very quickly, so they are very food motivated. While weight control formula is not necessary for everyone, this formula is tasty, high quality, and easy to digest. Other flavors include trout and sweet potato, salmon, and lentils.
First 5 ingredients: deboned cod, turkey meal, salmon meal, lentils, yellow peas
Formula highlights: no egg or chicken protein, easy to digest, L-carotene for metabolism support.
Guaranteed analysis: crude protein 30% (min); crude fat 7% (min); crude fiber 6% (max)
Calories: 368 kcal/cup
Price
Merrick Classic Healthy Grains Dry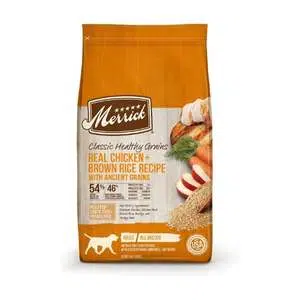 This grain-inclusive, high-quality kibble uses deboned poultry as its first ingredient. This recipe has high Omega fatty acids, glucosamine, and chondroitin levels. Includes plenty of essential vitamins and minerals and uses brown rice and other ancient grains, including quinoa. These grains aid in digestion. Kibble is prepared in Texas. Omega fatty acids help promote skin and coat health, and glucosamine and chondroitin to support hip and joint functions.
This recipe contains no potatoes, peas, or lentils. It is easy to digest and uses fiber-rich grains, including brown rice, oatmeal, and quinoa. High-quality protein is critical, and this recipe uses no fillers. The formula is suitable for dogs of all sizes and uses no corn, wheat, soy, artificial flavoring, or preservatives. The Healthy Grains line also offers other meat choices, including lamb and salmon.
First 5 ingredients: deboned chicken, chicken meal, brown rice, barley, turkey meal
Formula highlights: carrots, apples, alfalfa meal, sunflower oil, chia seeds, yucca schidigera extract
Guaranteed analysis: crude protein 26% (min); crude fat 16% (min); crude fiber 3.5% (max)
Calories: 393 kcal/cup
Price
Best Wet Food For Labs
Labradors of all ages will enjoy wet food. For some pups, wet, canned, or fresh food is necessary due to dental or digestive issues. For others, it is a preference; for many dogs, wet and dry kibble make up parts of their diet. Wet food is easier on the teeth, benefiting puppies and seniors. It is also higher in moisture which helps keep pets hydrated. Wet food generally has a higher meat content and uses fresher components than kibble. It is also high in flavor and nutrient value.
JustFoodForDogs Pantry Fresh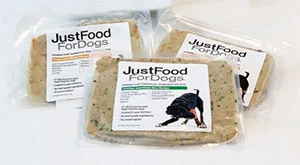 JustFoodForDogs Pantry Fresh is a top choice for wet food. They are made with fresh, human-grade ingredients, without artificial fillers, preservatives, growth hormones, BHA, BHT, or artificial colors. These recipes are formulated by vets and crafted to be used as a full meal. All the quality and taste of fresh meals stay good on the shelf, unopened, for up to two years.
This recipe is crafted to support skin, coat, and joint support. This is important for the large Labrador, as these are common ailments the breed suffers from. Chow is easy to digest, high in nutritional value, and retains excellent flavor. This can be served mixed in with dry kibble as a treat or a full meal.
First 5 ingredients: pork, quinoa, kale, carrots, apples, rice starch
Formula highlights: sunflower oil, coconut oil, collagen, Vitamin E, DHA, EPA, Vitamin B12
Guaranteed analysis: crude protein 6.5% (min); crude fat 1% (min); crude fiber 1.5% (max)
Calories: 31 kcal per oz
Price
Redbarn Chicken Roll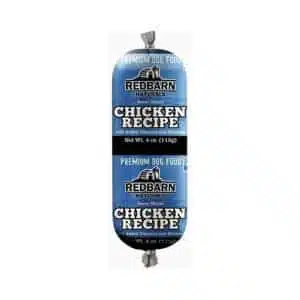 Red Barn Naturals offers rolled, wet dog food. Though not as common as canned or fresh, rolled dog food is very nutritious. Meals are cooked at a low temperature to retain minerals and nutrients. Each recipe contains more than 40% fresh, real animal protein. Sunflower oil is included for Omega 6 fatty acids, and flaxseed oil supports coat, skin, and digestive health. This chow is versatile as owners can slice, cube, and crumble it. This is suitable as a complete meal alone or can be used as a topper or treat. Roles only need refrigeration once they are opened.
Redbarn features single protein recipes and does not use any artificial additives, preservatives, or flavors. Available in both grain-inclusive and grain-free recipes. Proteins include animals, meat, and organs. This option contains chicken, chicken hearts, and livers and comes with or without grain.
First 5 ingredients: chicken, chicken hearts and liver, whole wheat flour, sucrose
Formula highlights: Vitamin A, B6, folic acid, chicken fat, dried egg, sunflower oil, flaxseed, single protein, all life stages, low-temperature cooking
Guaranteed analysis: crude protein 14% (min); crude fat 5% (min); crude fiber 3% (max)
Calories: 325 kcal per serving
Price
Wellness Complete Stews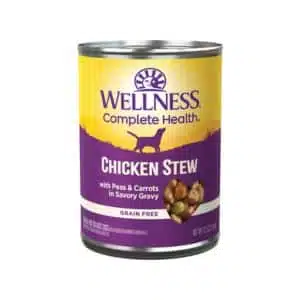 Wellness Complete Stews offer a high-quality canned meal. These include chicken, turkey, beef, lamb, and grain-free options. More unusual proteins include venison, duck, as well as salmon, and turkey. There are grain-free options available. These stews are extremely high in protein, lower in fat, and use real animal meats. Stews can be fed daily, mixed with kibble, or as a treat or topper. They do not contain any meat by-products, fillers, or artificial preservatives—tender cuts of high-quality animal protein and slow-cooked veggies in a tasty gravy.
Nutritionists and veterinarians formulate Wellness Stews to provide top-quality taste and protein. Animal protein comes from chicken, broth, and livers, and the recipe includes dried egg whites.
First 5 ingredients: chicken, chicken broth, water, chicken liver, peas
Formula highlights: dried egg, salmon oil, Vitamin E, B12, rosemary, sage, thyme, no corn, soy, or wheat
Guaranteed analysis: crude protein 8% (min); crude fat 3.5% (min); crude fiber 1% (max)
Calories: 310 kcal/can
Price
Best Affordable Dog Food For Labs
Of course, budget is always a concern when it comes to picking the best nutrition for your dog. Even pet owners on a lower budget have some high-quality options to choose from. Make sure to look for those free from fillers, artificial additives, and unnamed meat by-products.
Purina Pro Plan Adult Shredded Blend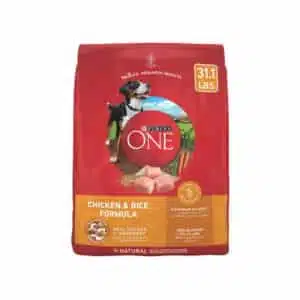 This kibble blends tender medium morsels and crunchy kibble to give dogs a flavor and texture combination they genuinely enjoy. The recipe includes four antioxidant sources to support immune system health and natural sources of glucosamine to promote healthy joints. This kibble has no fillers, meaning your pup will get high-quality nutrition.
The recipe includes a prebiotic fiber to help with healthy digestion and vitamins A, E, zinc, and selenium for immune system support. Cabela's formulated to be very digestible, which is essential for this breed. This is a high protein, grain-inclusive, natural formula. Be advised this formula does include corn and wheat, something to keep in mind if your dog has sensitivities to those products.
First 5 ingredients: chicken, rice flour, corn meal, whole grain corn, chicken by-product meal
Formula highlights: glucosamine, beef fat, Vitamin E, A, B3, B12, thiamine folic acid, no artificial additives
Guaranteed analysis: crude protein 26% (min); crude fat 16% (min); crude fiber 3% (max)
Calories: 383 kcal/cup
Price
American Journey Limited Ingredient Diet Chicken & Sweet Potato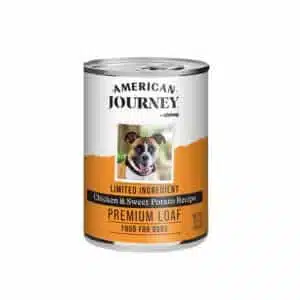 This affordable, high-quality canned food is a good choice for Labrador. It gets most of its protein from chicken and salmon. This is a grain-free, limited-ingredient recipe. No corn, wheat, or soy, so it is easy to digest. Includes real salmon broth for additional moisture and added ingredients like pumpkin and flax seed for nutritional support.
This recipe includes organ meat like liver and whitefish and additives like pumpkin and ground flaxseed. It is easy to digest and suitable for large-breed adults. Recipes are designed after a dog's primal nutritional needs. This recipe is nutrient dense and supports skin, coat, and muscle health.
First 5 ingredients: chicken, chicken broth, chicken liver, sweet potato, flaxseed
Formula highlights: organ meats, sunflower oil, flaxseed pumpkin, yucca schidigera extract, rosemary extract, single protein
Guaranteed analysis: crude protein 9% (min); crude fat 6% (min); crude fiber 1.5% (max)
Calories: 407 kcal/can
Price
Best Dog Food For Labs With Allergies
Labrador Retrievers are a breed that often suffers from food sensitivities and allergies. Because of this, owners may want to consider limited ingredient formulas. Fresh foods are a fantastic choice for dogs that suffer from allergies. Any fresh meal options we have already discussed are an excellent choice for allergies, but we will also discuss a couple more. Consider a fresh diet if your dog has skin conditions or dietary sensitivities.
Nom Nom Fresh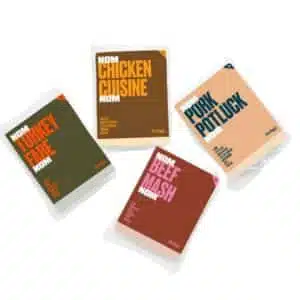 Nom Nom makes human-grade, fresh meals. Fresh meals are always an excellent option for dogs with food sensitivities and allergies, as they use extremely high-quality ingredients and are often limited recipes. These are also less processed than kibble or canned foods, meaning they have higher nutritional value. Nom Nom includes healthy fish and sunflower oils in all recipes to promote healthy skin and combat allergies. Limited ingredient recipes keep the risk of food allergens low.
As processed foods are one of the significant causes of skin allergies and itchy skin, fresh options like Nom Nom are something all Labrador owners should consider. Board-certified veterinary nutritionists formulate recipes. Meals are soft, highly digestible, and portioned out to suit your pet's needs. This is a subscription service, so owners will need to set up a profile and then pick a plan. Meals are conveniently delivered right to your door. Protein choices include beef, chicken, turkey, and pork. Below we break down some further information for the chicken recipe.
First 5 ingredients: chicken, sweet potatoes, squash, water, spinach
Formula highlights: includes sunflower oil, canola oil vinegar, citric acid, fish salt, vitamin E, vitamin B3, vitamin A, manganese, folic acid
Guaranteed analysis: crude protein 8.5% (min); crude fat 6% (min); crude fiber 1% (max)
Calories: 206 kcal/cup
Price
Should I Consider A Hip & Joint Supplement?
Because Labradors are at a higher risk for developing elbow and hip dysplasia and arthritis, you may want to consider adding a daily joint supplement to your pup's diet. The best canine joint supplements may help reduce the symptoms and severity of these inherited health problems. As with any significant change to your pet's diet, adding a supplement is only something you should do after you have discussed it with your veterinarian.
Tagged With: Comparison, Food Delivery