Fiber is an essential part of a dog's diet. It is helpful in the digestive system, keeping bowel movements regular and helping keep harmful bacteria from growing in the intestines and gut. Fiber is also beneficial to overweight dogs, making them feel full longer. If you are considering high fiber dog food, there are a few things to consider. Always take the time to research and make the transition to new food slowly. Finding the best high-fiber dog food for your dog starts with getting to know what high fiber food is and what to look for.
We have done diligent and extensive research into all types of canine chow and are happy to share our top picks for the best high fiber dog food.
At A Glance: Our Top Picks
Why Dogs Need Fiber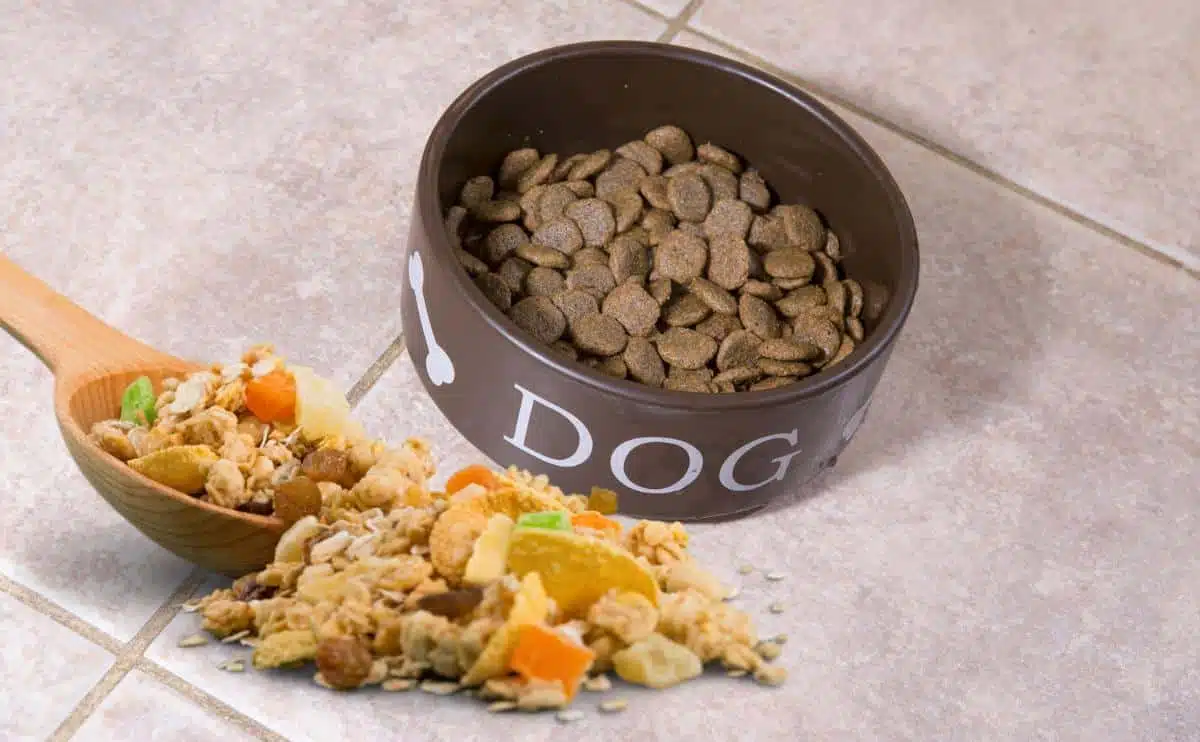 Canines need fiber in their diets to help keep the digestive tract functioning, but that is not the only area in which fiber adds health benefits. A high-fiber diet can help dogs lose weight, lower sugar levels, and reduce the risk of colon cancer. It helps with constipation, loose stools, and diarrhea. Fiber is not found in animal meats or proteins. It must come from plant materials like fruits and vegetables.
Fiber, a carbohydrate, comes in two forms, soluble and insoluble.
Soluble fiber attracts water and turns gel-like in the process, which slows down digestion. Soluble fibers work to help reduce cholesterol and blood sugar, reducing the risk of diabetes.
Insoluble fiber helps food pass through the digestive tract and adds bulk to a dog's stool. Insoluble fiber also brings water into the stool, which helps it soften and pass easier.
When To Consider A High Fiber Dog Food
There are several reasons your pup may need a higher-fiber diet. If they are struggling with constipation or are putting on weight, this food can help. Older canines often become less active and may start to experience more digestive upset. Because they do not move as much, they do not burn off as many calories, leading to weight gain. A higher-carb formula keeps them feeling full, for a longer stretch of time, without taking in extra calories.
Dogs who have diabetes may benefit from a higher-fiber food as it slows digestion and keeps sugar levels lower. Fewer spikes and dips in blood sugar help stabilize diabetic canines. Fibers reduce the sensitivity canines have to insulin as well. While not suitable for every diabetic pup, the diet is beneficial for some pups. Always discuss changes with your vet first.
Canines who suffer from anal gland irritation and malfunction may benefit from a more fibrous diet. The carbs can help them poop, which helps the anal glands to release.
Remember that too many fibrous proteins can be a problem, so do not overdo it. Discuss changing your pup's diet with your vet. Make the change gradually rather than all at once. Changing foods too often or rapidly can cause dogs to develop stomach upset and irritation, Including pooping blood.
Best High Fiber Foods For Dogs
We've done the research and looked through hundreds of brands to sort out the best high fiber canine options available today. Dog food usually has a fibrous content between 2% and 5%. Higher fibrous formulas will have more than that.
Overall Winner: Solid Gold Fit & Fabulous Weight Control Review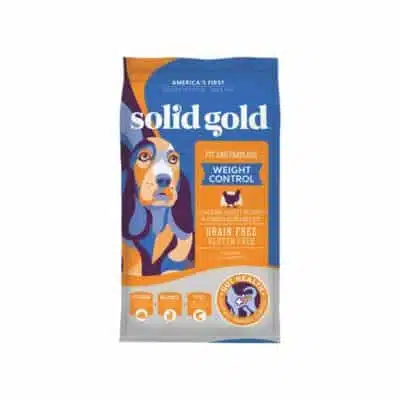 View on Amazon | View on Chewy
Solid Gold's recipe is grain-free, with sweet potato and chicken kibble. It packs a whopping 10 % fiber and is both gluten and grain-free. The formula is low calorie and low fat, perfect for canines that need to slim down a bit. It uses real chicken and contains antioxidants, omegas, and omega fatty acids. Includes probiotics to promote gut health. Gut health brings overall good health to canines, and the recipe aims to cleanse, fuel, and balance the digestive system.
It uses chicken, chicken meal, sweet potatoes, potatoes, peas, green beans, ocean fish meal, chicken fat, dried eggs, carrots, and more to provide nutrients. The recipe also contains pumpkin, a beneficial ingredient for canine digestion and a delicious source of healthy fibrous material. Kibble has 26% crude protein (min) and 9.5% crude fat (max) and packs 320 kcals/cup.
| Pros | Cons |
| --- | --- |
| The company has been in business for over 45 years | Expensive |
| Natural carbohydrate sources | Some owners report kibble being hard in texture |
| Top flavors | |
| 10% fiber | |
| Balanced nutrition | |
| Gluten and grain fee | |
Price
Best Poultry Free High Fiber Dog Food: American Journey Protein & Grains Salmon, Brown Rice & Vegetables Review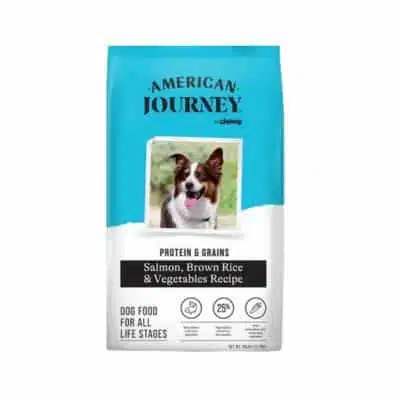 Some canines have trouble digesting poultry but still need higher fiber dietary content. American Journey Protein & Grains, Salmon Brown Rice & Vegetables is an excellent pick for these pups. 25% of the protein comes from deboned salmon. The recipe includes menhaden fish meal, chicken fat, brown rice, peas, rice bran, dried egg product, and more. Contains 338 kcal/cup.
No wheat, corn, soy, or poultry by-products, so kibble is very easy on the stomach. American Journey is Chewy's house brand. Tasty dry kibble is crunchy and full of flavor. It features a healthy blend of nutrient-dense fruits and vegetables, as well as containing Docosahexaenoic acid (DHA) to boost brain and vision development and health. The kibble offers 6% crude fiber (max), 25% crude protein (min), and 15% crude fat (min) and includes dried tomato pomace, alfalfa meal, dried plain beet pulp, oatmeal, carrots, and sweet potatoes as healthy carbohydrate sources.
| Pros | Cons |
| --- | --- |
| Easy to digest | Some owners have concerns about product consistency |
| No poultry or poultry by-products | Pricier than some other brands |
| No corn, wheat, or soy | May create substantial stools |
| No artificial ingredients | |
| For breeds of all sizes | |
| High protein | |
Price
28-lb bag $56.70
Personal Experience With American Journey
"Our dog Barley was suffering from anal gland issues, so we did an elimination diet and found he was allergic to poultry. When I was looking for poultry-free dog food for Barley, I also focused on higher fiber to further support anal gland health. So, we landed on this food which is fish-based and also 6% fiber (a little higher than avgerage). Since switching to the American Journey food 6 months ago, Barley has had zero anal gland issues."

–Michelle Schenker, rescue dog parent
Read Our Full American Journey Review
Best Low Fat High Fiber Dog Food: Wellness Core Grain Free Reduced Fat Formula Review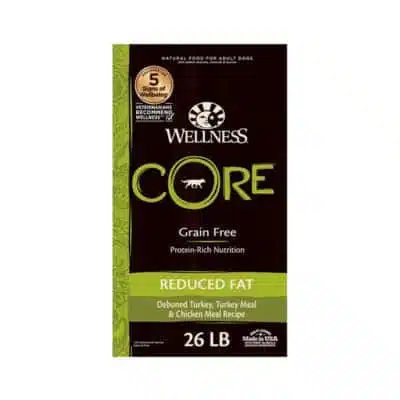 View on Amazon | View on Chewy
A top-notch reduced fat formula developed to keep canines at a healthy weight. The recipe is crafted to support healthy skin and healthy coats. It also promotes healthy muscle tone and lean body mass. Wellness's grain-free formula is packed with nutrients like antioxidants, vitamins, minerals, and more from specially picked ingredients.
It contains chicken, turkey, chicken fat, salmon oil, ground flaxseed, taurine, and more. Carbohydrates come from healthy veggies and fruits like spinach, broccoli, carrots, parsley, apples, blueberries, and kale. Offers 366 kcal/cup and 12% crude fiber (max), 33% crude protein (min), and 10% crude fat (min). No corn, soy, wheat gluten, or artificial ingredients. Tasty, crunchy kibbles work to support heart and digestive health, as well as supporting strong bones and joints.
| Pros | Cons |
| --- | --- |
| Real turkey and chicken | Mixed animal proteins can be hard for some dogs to digest |
| Pre and probiotics | Higher priced product |
| Glucosamine and chondroitin | |
| Natural ingredients | |
| Low-fat formula | |
| Strong flavor | |
Price
Best Highest Fiber Dog Food: Wellness CORE RawRev Grain-Free Healthy Weight Recipe Review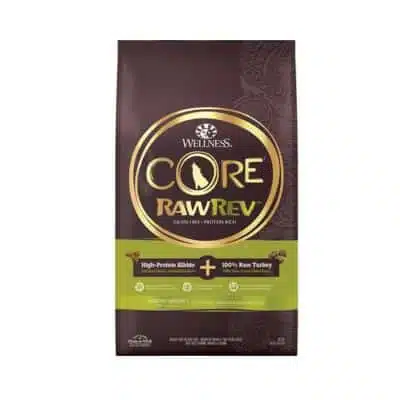 View on Amazon | View on Chewy
With 13% crude fiber (max), the tasty kibble is a top pick for fibrous content and flavor. The Wellness Core Raw Rev delicious recipe features 100% pure bites of freeze-dried turkey. The recipe includes antioxidants, homemade fatty acids, probiotics, taurine, and glucosamine. The formula was specially developed to be high in fibrous proteins, with balanced fat and nutrient levels to maintain and support healthy weight and whole-body health. The recipe is a raw, grain-free, dry food. It supports a healthy coat and skin, digestion, and balanced health.
The Raw Rev recipe contains no wheat, corn, soy, or other fillers. Ingredients include deboned turkey, turkey meal, chicken meal, lentils, peas, dried ground potatoes, peas, ground flaxseed, tomato pomace, turkey liver, turkey hearts, chicken fat, salmon oil, apples, broccoli, carrots, spinach, parsley, carrots, blueberries, and kale. Contains 35% crude protein (min) and 10% min fat. 367 kcal/cup. It works to help stimulate the appetite, promote healthy digestion, and support immune system function. Suitable for breeds of all sizes and best for adults.
| Pros | Cons |
| --- | --- |
| Freeze-dried raw turkey bits | Higher price |
| Stimulates healthy appetite | Some owners do not like the dust left in the bag |
| Pets love the taste | Dogs will sometimes only eat the freeze-dried bits as they have a ton of flavor |
| Great for picky eaters | |
| High fibrous content | |
Price
Best High Fiber Puppy Food: Baby Blue High Protein Puppy Chicken Dry Review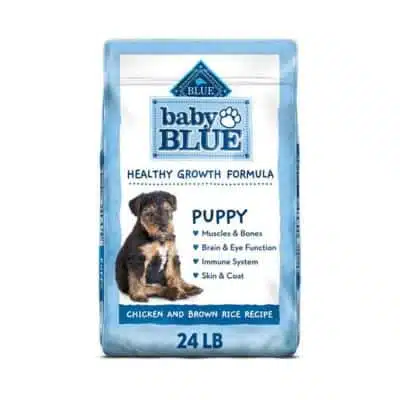 View on Amazon | View on Chewy
Blue Buffalo is known for its high quality, and Baby Blue's puppy-specific recipe is top-notch. All-natural puppy kibble using high-quality protein and elevated carbs. It contains DHA and ARA to promote and support retinal health and brain development. Protein from deboned chicken, chicken meal, menhaden fish meal, dried chicken. Uses salmon oil, fish meal, chicken fat, fish oil, dried egg, chicken fat, brown rice, oatmeal, barley, and flaxseed. Fibers come from fresh fruits and veggies, including blueberries, cranberries, carrots, sweet potatoes, peas, dried tomato pomace, barley grass, parsley, dried kelp, and vegetable juice.
Baby Blue kibble contains 398 kcals/cup, plenty to support the high growth and energy needs of growing puppies. Boosts 5% crude fiber (max), 27% protein (min), and 16% crude fat (min). Suitable for all breeds. Blue Buffalo also makes large and small breed Baby Blue formulas.
| Pros | Cons |
| --- | --- |
| All-natural | Some puppies do not like the taste |
| High protein, highly fibrous formula | Some owners report very loose stools from their puppies after eating |
| No chicken by-product meals | |
| No corn, soy, wheat, or artificial ingredients | |
| DHA and ARA | |
| Promotes muscle growth, brain development, immune system support, strong bones, eye health, skin, and coat support | |
Price
High Fiber Senior Food: The Farmer's Dog Review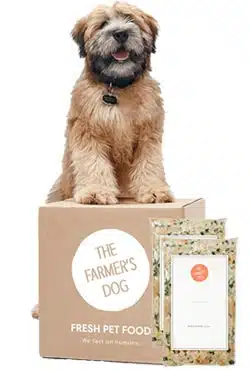 The Farmer's Dog is a top pick due to the outstanding quality of its human-grade ingredients. These meals are crafted in human-grade kitchens and flash frozen, then delivered right to your door. They offer four flavors, and dogs all over the country absolutely love the stuff. The Farmer's Dog uses all-natural, USDA human-grade ingredients in every recipe. Board-certified American College of Veterinary Nutrition experts craft all recipes.
Fresh veggies and fruits provide plenty of nutrients, vitamins, antioxidants, and carbs. The Farmer's Dog uses fresh vegetables like broccoli, Brussels sprouts, carrots, chickpeas, green beans, lentils, and sweet potatoes, all healthy sources of beneficial carbs. While it is not specifically formulated for seniors, it is a top pick for all dogs. The Farmer's Dog is a top choice for seniors as the food is soft, palatable, and packed with nutritional value and flavor. If you want to get extra carbs into your dog's diet, simply mix some brown rice with the food.
| Pros | Cons |
| --- | --- |
| Human-grade ingredients | Higher price |
| Made in the USA | Limited recipe selection |
| Cooked fresh, then flash frozen | Subscription only |
| Top-quality nutrition and taste | |
| Fresh garden fruits and vegetables | |
| You can set up a specific nutrition plan for your dog's unique needs | |
Price
Read Our Full Review Of The Farmer's Dog
Best High Fiber Dog Food For Small Breeds: Stella & Chewy's Lil' Bites Chicken Little Recipe Review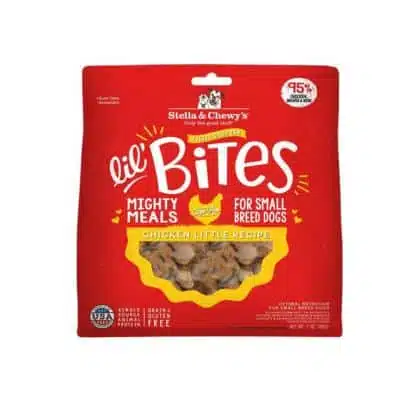 View on Amazon | View on Chewy
Made just for small breeds, Stella & Chewy's freeze-dried raw formula uses organic fruits and vegetables, 95% cage-free chicken, as well as organ meat and ground bone. The recipe also includes superfoods, including coconut flour and chia seed. It is a minimally processed, gluten and grain-free recipe. Food is crafted raw and freeze-dried, supporting healthy digestion, energy levels, as well as dental health. Freeze-dried raw food retains some of the highest levels of nutritional value of any form of pet chow around.
Chow is specially formulated and minimally processed and does not use any added hormones, fillers, or antibiotics. The Lil' Bites Chicken one contains 5% crude fiber (max), 48% protein (min), and 29% crude fat (min). The freeze-dried fruit can be served as it is or be rehydrated by soaking it in warm or cool water. Works for small and extra small breeds, best for adults. Contains no grain, gluten, corn, wheat, or soy. Formulated to be the perfect size for smaller breeds. Healthy fibrous proteins come from organic fruits and vegetables, including beets, broccoli, carrots, cranberries, spinach, squash, and blueberries.
| Pros | Cons |
| --- | --- |
| High-quality, real animal meats | Higher price |
| Organic fruits and vegetables | Smaller bags |
| Natural recipes | Not every dog likes the taste of freeze-dried meat |
| Freeze-dried to retain top flavor and nutritional value | |
| Gluten and grain free | |
| No corn, wheat, soy, or pea protein | |
Price
Best Fiber Supplement For Dogs
Along with picking meals with more fibrous content, some owners may need to add fiber supplements to their dog's diet. Supplements come in the form of powders as well as chews. These work to support digestive function and anal gland health. If you have a dog with digestive issues or anal gland concerns, you will spend a lot of time learning about healthy fibers and carbs. Glandex is a top-selling and highly reviewed brand of anal gland, high-fiber supplements. They make soft chews, sprays, powders, and other canine supplements.
Glandex Anal Gland Soft Chew Treats With Pumpkin Review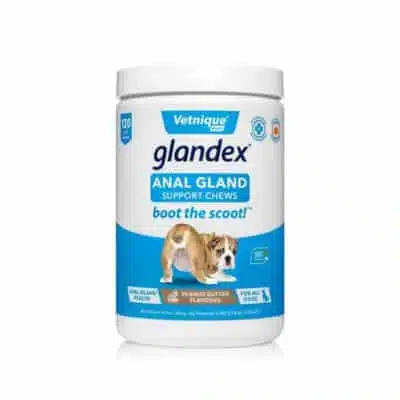 View on Amazon | View on Chewy
Made with pumpkin seed powder, granulated pumpkin seed, apple pectin cellulose powder, potato starch, dehydrated peanut butter oil, flaxseed oil, mineral oil, peanut butter, rice bran, and a few other ingredients. Glandex is a patented scientific formula developed to help keep the anal glands working correctly and in good health. Offers a proprietary and unique fibrous blend that promotes firm, bulky stools. These help the anal glands express naturally.
Glandex is a veterinarian-formulated, peanut butter-flavored, delicious treat. Pumpkin is an excellent source of dietary fiber and is often used to treat indigestion, diarrhea, and constipation.
"Our dog had his anal glands rupture (twice) and immediately started using Glandex chews in his morning meal. Love that the pumpkin flavored is poultry-free (a supposedly contributor to his anal gland issues). He goes straight for the Glandex before eating the rest of his kibble, almost as if it's a big treat (or the cherry on top of his food). "

– Sadie Cornelius, Cavalier King Charles Spaniel dog mom
Price
How To Add Fiber To A Dog's Diet
Switching to or mixing in a high fiber dog food or other highly fibrous foods to their diet is an easy and effective way to raise the fiber intake. If you are not ready to switch your dog to a higher fiber formula, plenty of fresh fruits and vegetables can be added to the bowl or used as snacks. There are several natural, very healthy sources. These include beet pulp, pumpkin, ground flaxseed, lettuce, kelp, carrots, green beans, apples, brown rice, and berries like strawberries and blueberries.
Good Sources Of Fiber For Dogs
Pumpkin is one of the best sources of fiber owners can choose to give their dogs. Other high-quality sources include broccoli, microgreens, leafy greens, and grains. Other highly fibrous foods include squash, sweet potatoes, oats, barley, and quinoa, to name a few. If you add fresh vegetables or fruit to your pup's diet, use plain, fresh produce. It is particularly important not to feed your pet foods prepared for humans or other animals. It may contain ingredients like garlic, onion, or added sweeteners and sugars that are unhealthy or even toxic for canines to eat.
How To Change Your Dog's Food
It is not ideal to switch your dog's food too quickly. The change should be a gradual process. Regardless of what food you are switching to, slowly mix the new food with the old, and gradually increase the amount of the new food until your dog is no longer eating any of the older varieties. It can take several days, even up to two weeks or more, to fully transition over. It is essential to take the process slowly, as switching too quickly can cause digestive upset, stomach pain, and even straining to poop or blood in a dog's feces.
Not Sure High Fiber Is Right For Your Pup?
High-fiber dog food isn't right for every pup. If you are still determining if higher fiber is the right direction for your sweet pup, there are plenty of other options to consider. Owners can look for low-carb dog food, human-grade, as well as dog food formulas for overweight and obese dogs, diabetic formulas, freeze-dried foods, and many more. It is best to evaluate your dog's health situation and know what you are looking for in order to make the best dietary decisions for your pet. Always discuss changing a dog's diet, especially if your dog has any medical conditions or special needs, with your veterinarian or pet nutritionist first.
Tagged With: