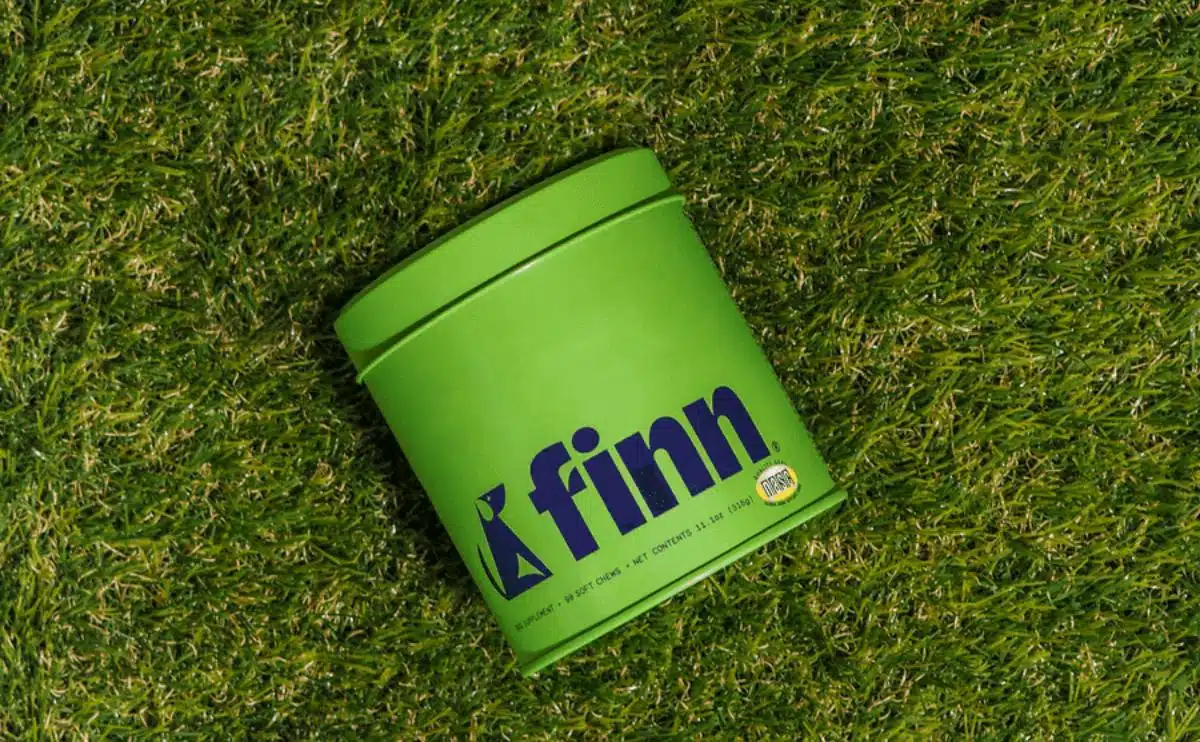 Our dogs, just like us, sometimes need supplements to meet their needs. Supplements can be used for many things, including joint pain, allergies, itchy skin, mood, vitamin deficiencies, or even life-stage support. It can be a challenge for owners to pick the right one, and new products get added to the market all the time. One company that is newer to the industry, Finn, offers a variety of supportive soft chews made just for dogs. We look at the details and learn more about what the brand offers in this comprehensive Finn Dog Supplements review.
Of course, owners should always discuss any dietary or medical needs their pup has with a veterinarian. Trying to fix long-term or severe conditions alone is challenging and not what is best for your pup. Reach out to the vet before adding any supplements or vitamins, especially if your pup has a medical condition or is taking medications.
Finn Dog Supplements Reviews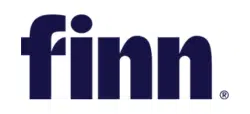 Product Name: Finn Dog Supplements
Product Description: Finn is a modern pet company that makes all natural dog supplements developed to give pups optimal health.
Summary
Finn, or Petfinn, makes all natural, soft chew dog supplements developed to support overall health, as well as specific needs. The company is dedicated to providing dogs with the same level of care given to humans.
Pros
NASC certified
Multiple health needs
For dogs of all ages and sizes
Made in the USA
No chemicals or preservatives
Subscription options available
Personalized plan for your pup
Comparatively priced
Research based
Virtual Support
User friendly website
Cons
Some owners do not like the smell
No international shipping, or to PO/APO boxes
Not every dog likes the taste
View on Amazon | View on Finn's Website
Key Features
All-natural canine health supplemental soft chews
NASC quality seal of approval
Made in USA
100% recycled steel, BPA-free tins
Vet-endorsed dietary supplements
Soft chews
Canine specific formulas
Supplements vs. Vitamins
Supplements and vitamins are similar but not exactly the same. Vitamins are supplements but are also ingredients in other formulas. Some pups may need specific vitamins. Others will benefit from a recipe that includes other components like fish oils, sunflower oils, and probiotics. A supplement can boost the diet's nutritional value and may contain elements like fiber, vitamins, minerals, and other nutrients. Be careful not to overdo it, and always follow the directions on the package and any guidance from your vet or other pet care experts.
Petfinn Dog Supplements
Petfinn, or Finn, a modern pet wellness company, was founded by James Shalhoub in 2020. The company is based in New York. While working on a health company for humans, Shalhoub realized dogs need this kind of healthy support just as much as humans, and the idea for Finn, also referred to as Petfinn, was started. After doing diligent research and getting firsthand feedback from pet owners, the company began producing all-natural canine supplements. They aim to give dogs the same level of care as humans.
Finn takes everything about pet health seriously and serves these soft chews in premium metal tins. The idea is that the owner can then reuse these tins, not simply throw them away. Finn is dedicated to creating science-based, results-driven products. The company works with pet care experts, including veterinarians and care providers, to provide the best, most effective products. Along with that, they are dedicated to helping animals in need. The brand partners with local animal shelters and donates part of their proceeds to caring for needy animals.
The company uses cold press extrusion to make the soft chews, and every batch is safety and lab tested before it is sent to customers. Batches are labeled with numbers, allowing the consumer to track ingredient sourcing, manufacturing, testing, and processing. All products are housed in plastic and BPA-free tin containers, which are fully recyclable. Chews contain no artificial flavors, ingredients, chemicals, soy, corn, or wheat.
Pet owners can purchase a single product or set up a subscription based on their pet's unique needs. Subscriptions come with a discount of 15%. Additionally, Finn's soft chews can be found online with retailers like Amazon and Chewy.
Finn Dog Supplements Products & Pricing
All Finn supplement tins contain 90 chews. Serving size depends on a dog's physical size, between 1 and 4 chews daily. 1 soft chew daily per 25 pounds of body weight. Store in a cool, dry place.
The company currently offers 7 kinds of supplements, including multivitamins. On the Petfinn website, they also offer specifically paired bundles purposely built to support different needs. Options include calming aids, skin and coat support, joint mobility, tissue repair, probiotics, digestive support, and allergy relief. The company uses no plastics in its packaging. Tins are 100% recyclable, as is cardboard.
Allergy & Itch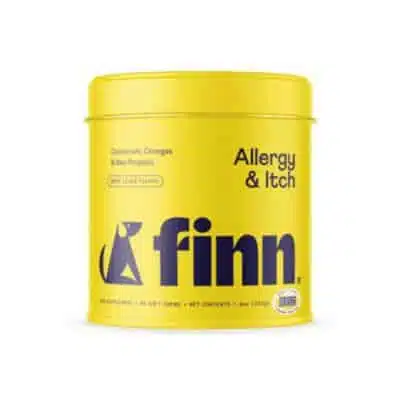 The formula supports dogs during seasonal allergies, promotes normal histamine levels, soothes itchy skin, aids digestion, and regulates the immune response
Contains colostrum, quercetin, Omega fatty acids, and bee propolis
These come in a beef liver and cheese flavor
Includes natural bacon and cheese flavor
These soft chews support skin health
Active ingredients include wild Alaskan salmon oil, Fructooligosaccharides (FOS), Bromelain, and Bacillus coagulans
Price $32.00 ($0.36 / Count)
Finn Allergy and Itch supplement is one of our top picks for allergy supplements.
Digestive Probiotics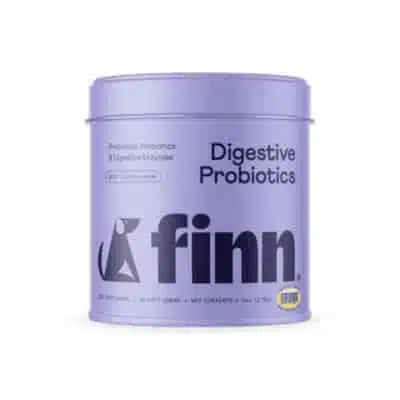 Pre and probiotic formula developed to support healthy digestion and bowel movements, aid in nutrient absorption, promote beneficial gut bacteria, soothe stomach discomfort
6 probiotic blend – Lactobacillus Acidophilus, L. fermentum, L. Reuteri, L. Plantarum, Bifidobacterium bifidum, L. Casei Subsp. Casei
3B CFU of living probiotics
Natural beef liver, cheese, and bacon flavor
Includes safflower oil, organic honey, and chicory root
Prebiotic fiber
Price: $31.84 ($0.35 / Count)
Calming Aid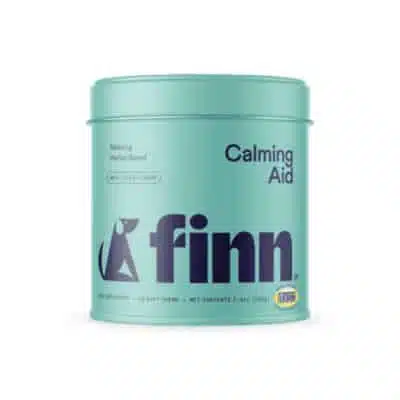 Relaxing herbal and beef liver flavor supports calming and relaxation, reduces stress helpful for dogs who are sensitive to loud noises travel, and trips to the doctor
It offers stress support and can help with sleep
Organic natural herb formula endorsed by vets
Natural bacon, liver, and cheese flavor
Organic honey
It contains safflower oil and sunflower lecithin
Price $32.00 ($0.36 / Count)
Multivitamin
Vitamin, omega, and probiotic blend formulated to provide essential vitamins and minerals and support joint mobility, heart, and immune system health
It also promotes skin and coat health
Glucosamine and chondroitin for joint support
Live probiotics for digestive support – 2 strains and 500 million CPU per chew
Includes natural beef liver, natural cheese, and bacon flavor
Organic honey and fish oil
Price $32.00 ($0.36 / Count)
Hip & Joint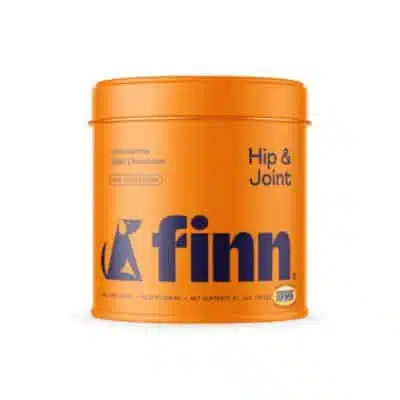 A supplement formulated to help with occasional stiffness and soreness promotes mobility and flexibility, promotes cartilage development
It contains glucosamine, chondroitin, and turmeric
Includes green-lipped mussels
Natural bacon, beef liver, and cheese flavor
Assists healthy inflammatory response
Connective tissue support
Price $32.00 ($0.36 / Count)
Skin & Coat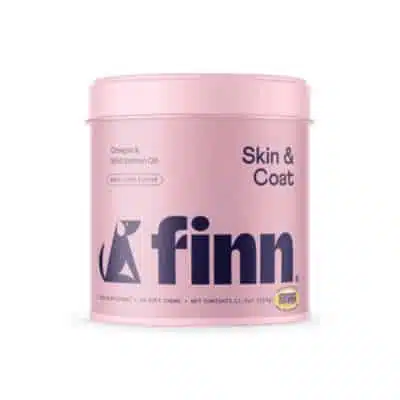 Packed with fatty acids for a shiny coat, helps with shedding maintenance, highlights coat color, and aids with itch relief, dry skin, and inflammation
Cold-pressed Alaskan salmon oil
Omega-3 fatty acids benefit the brain, heart, and joints.
EPA, DHA, biotin, and vitamin E
Natural beef liver
Fish oil and organic honey
Price $32.00 ($0.36 / Count)
Vision & Tear Stain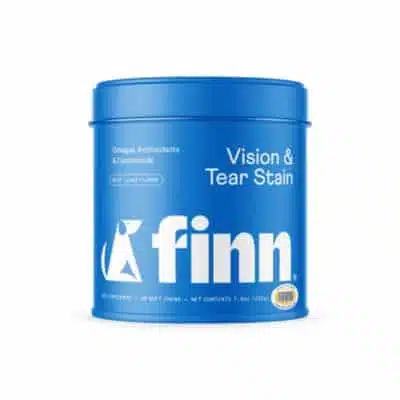 Omegas, antioxidants, and carotenoids, beta – carotene supports eye function, provides UV protection, helps maintain ocular integrity
It contains lutein, zeaxanthin, and eyebright extract.
Assist in reducing eye irritation and discharge
Tear stain support aids in moisturizing the eye
Natural beef liver flavor
Natural cheese and bacon flavors
Price $32.00 ($0.36 / Count)
How It Works
First, you'll fill out a few questions about your dog's name, gender, age, body weight, medical condition, and breed.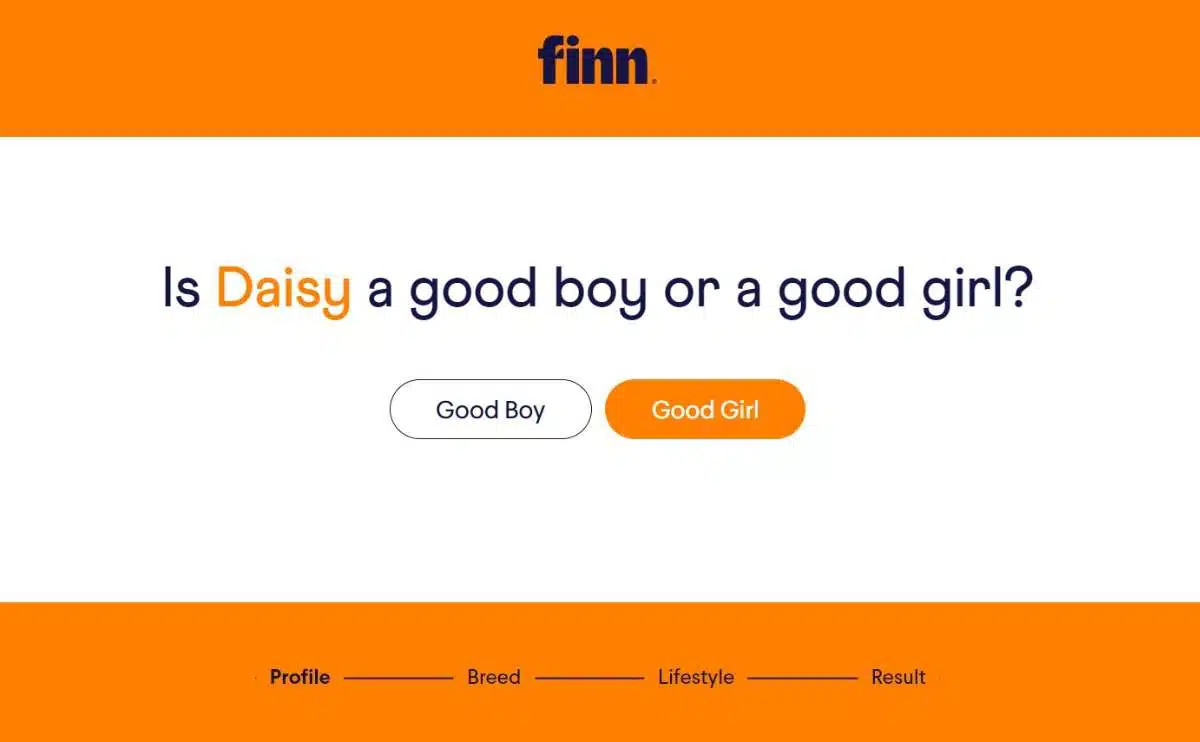 Then, they recommend a plan and which supplements would be a good fit, along with the dosage and frequency of each supplement.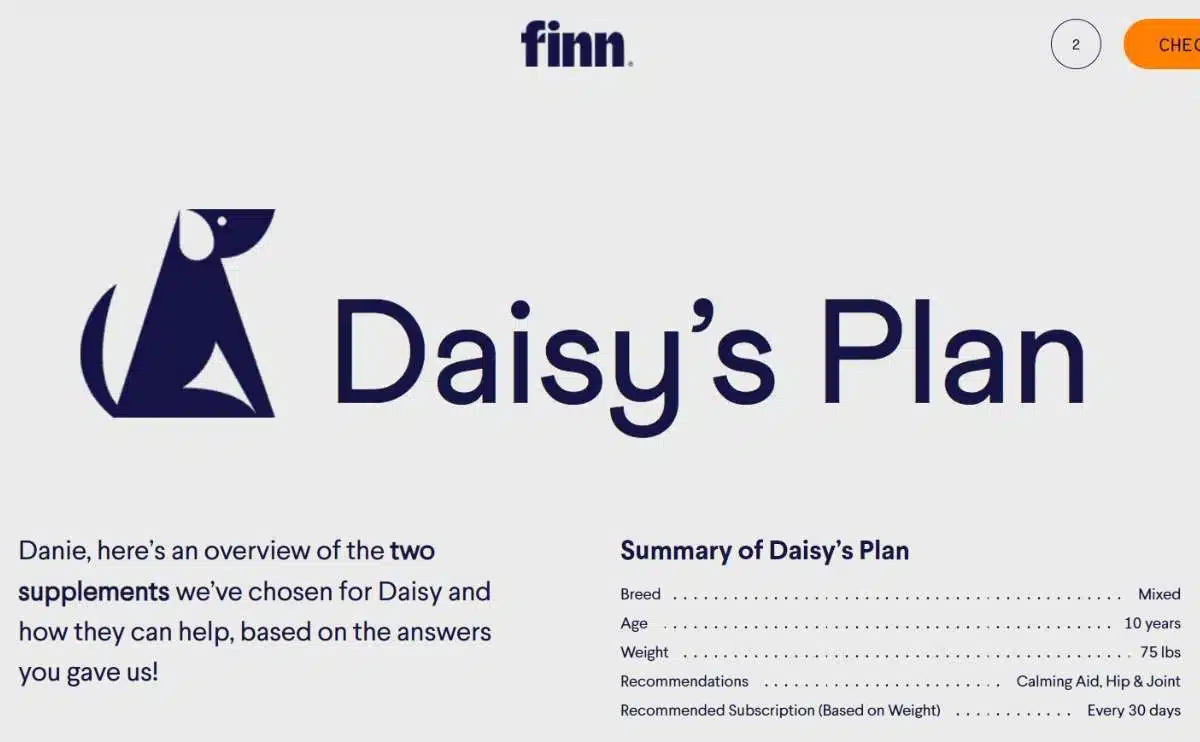 Customers really like these treats, and Finn gets rave reviews for customer service and product quality. Overall, we believe these to be high-quality, helpful supplements. The ingredients are top-notch, and there is nothing unnecessary in any of them. Chews are soft and taste good. Most dogs gobble them up happily.
Our Final Verdict
View on Amazon | View on Finn's Website
There is a lot to like about Finn dog supplements. We appreciate the all-natural formulas. Finn is certified by the National Animal Supplement Council (NASC). The company has not had any recalls or lawsuits in its 3-year history. All chews are made in the United States, manufactured in a CGMO (Current Good Manufacturing Practice) facility, and regulated by the FDA. Chews are formulated in consultation with Dr. Kerri Nelson, DVM, PGRS-C, Dr. Farren Billand, DVM, and Dr. Laura Robison, DVM.
We like the selection of formulas and that there are picks for a variety of pet conditions. When setting up a subscription, owners go through a very detailed quiz to pick the best combination for their pups based on their unique needs
Supporting Dog's Health Needs
It is vital that owners pay attention to and attend to their dog's health needs. Part of this is keeping a close eye on your pup and noting any irregular behavior. If your pup suffers from arthritis, diabetes, obesity, heart disease, or joint issues like hip dysplasia, work with your vet to formulate the best nutrition, exercise, supplement, and care plan.
If you are concerned about allergies, contact your vet for allergy testing. Allergy testing can be greatly beneficial in helping you pick the right supplement, medication, and food for your pup. Every dog is an individual and has unique health needs. Dogs may need different food, support, and care even in the same house.
Need Help Picking The Best Food To Fill Your Dog's Bowl?
While supplements can be beneficial, canine health and well-being largely depend on what goes into their bowls. While not every dog or breed has the same nutritional needs, all dogs require high-quality, balanced nutrition. Most will eat a mixture of dry kibble and wet food. Plenty of options for human-grade, freeze-dried, and even raw diets are available. Always stick to a food formulated to meet your pup's size, breed, and life stage. Smaller dogs need different calories than larger breeds, just like puppies have differing needs from adult and senior dogs.
Owners can also look to gut health tests, allergy tests, and food intolerance tests to get more information about your pup's health.
If you are still determining if Finn is right for your pup, learn more about other supplement and vitamin options, including joint health, digestive enzymes, and more.
Tagged With: Supplements