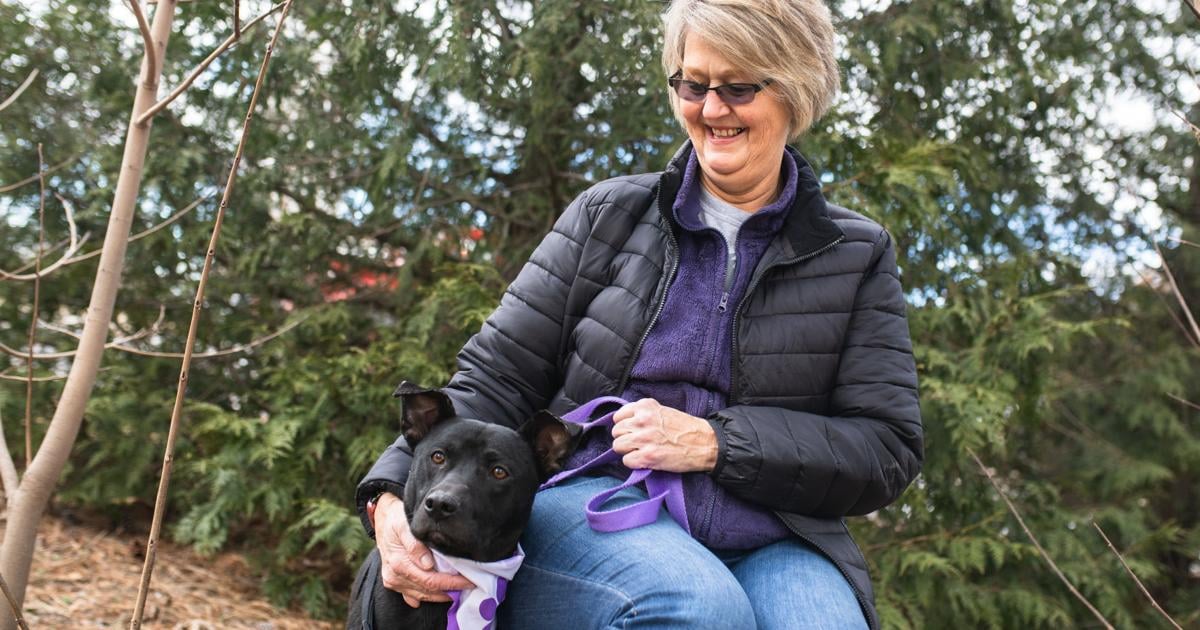 Eva Peterson offers furry friends a stop on their way to their forever home.
Peterson fosters dogs for Purple Paws Animal Welfare Society and recently adopted out her 82nd foster. Peterson said taking dogs into her home, each with their own challenges, can be difficult but is rewarding. Peterson plays a role in helping find the right fit for each dog and each family.
"You save an animal on a (euthanasia) list or in a bad situation," she said. "And the families these animals go to, some of these dogs have literally saved people's lives."
Peterson took in her first foster almost six years ago. She had adopted a dog, Tillie, from Purple Paws and realized the dog needed companionship. Fostering allowed more flexibility than adopting another dog of her own, and Peterson did not anticipate the commitment she would end up making.
"It was not my intention to get a big number," she said. "But it's very addictive."
Peterson has two dogs of her own, Tillie and Walter. Walter was Peterson's 75th foster and ended up staying for good.
"I always said if I keep one, I can't do more," she said. "I don't know why he stayed, but it was just meant to be."
For most of her time fostering, she has taken in smaller dogs, especially scruffy terriers like her dog Tillie. Many people who foster develop a reputation for liking certain breeds of types of dogs, she said.
"Everybody kind of gets their calling card," she said.
Peterson worked for Kansas Farm Bureau for around 40 years and also spent a few years at the Kansas Forest Service. Other than some dogs as pets over the years, much of Peterson's previous experience with animals was raising cattle growing up.
She now sits on the Purple Paws board of directors, mentors new volunteers and helps with getting supplies to fosters, such as food, crates or shampoo. Peterson has even made changes to her home to better accommodate her furry guests.
"When I started I had carpet clear through my house," she said. "It's all gone, and I have hardwood floors."
She said some dogs might come in with health or behavioral problems such as separation anxiety or problems with people or other dogs.
"Within a week, you're going to see any health issues or behavioral issues," she said.
Peterson said some of the most difficult dogs end up taking up a larger space in her heart. She said some of the adoptive families she's stayed closest to have taken in some of the dogs with the biggest problems.
"They take a bigger piece of your heart when they go," she said. "It makes your heart grow when you help one and then when they get adopted it takes a piece of your heart."
Peterson has adopted out dogs to friends and family, and she has become friends with others who have adopted her fosters. She said she is still close friends with the woman who adopted her very first foster dog.
When a new animal comes into her home, Peterson doesn't know how long it might be staying. She said this is difficult but comes along with the territory.
"You may have them two weeks, or my longest has been eight months," she said. "That's a tough commitment. That's probably what the hardest part is, the variables."
She said smaller dogs tend to go more quickly. In a town with many college students and military families, limits on larger dogs can make it harder to find them a new home. In fact, part of the vetting process for potential pet parents is calling their landlords to find out if they are allowed to have the dog in their home.
"Bigger dogs don't fit in apartments, and our student population and our military is very transient," Peterson said.
Despite the temporary nature of fostering, sending the animals to their permanent homes can still be painful. Peterson said she forms strong bonds with each animal.
"There have been many times I walk out and I get in my car and just cry," she said.
It can be a rollercoaster, but helping the dogs is worth the challenges of preparing her home and saying goodbye.
As Peterson spoke, she looked down at Angus, her 82nd foster, as he put his head on her knee.
"This kind of love, you just can't give up on it," she said.